Who are we?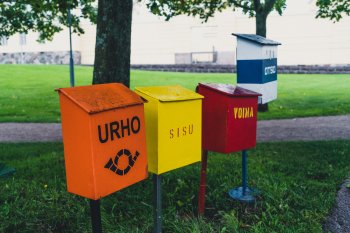 WHO ARE WE?
Helsinki Guides is an association of authorised guides established in 1947. The aim of our association is to provide information on the guides and their services, look after and promote the members' interests, the upkeep and further development of the members' professional skills and knowledge and act as a living community for our members. 
There are more than 300 members in our association and together we do around 17,000 guided tours in 25 languages annually. We are a member of SMAL (Association of Finnish Travel Industry, AFTA) and The European Federation of Tourist Guide Associations (FEG).
All members of Helsinki Guides Association are authorised guides which means that every member has officially been qualified as a guide by a professional exam board.
A professional guide is able to cater to various customers including the very discerning. When in the company of a professional guide the visitor can relax and enjoy the subject of the tour or the destination being visited.
Being fluent in the language spoken is key for a professional guide. The guide will have knowledge of the group's background and culture. The guide will acquire his knowledge of history and local details independently. The guide follows the current affairs and is well aware of what is going on in the world in general. A professional guide will always make sure that his knowledge is based on facts.
 It is part of a professional guide's routine chores that he makes sure the group is safe and any possible risks are minimised. The guide will keep the group informed regarding the safety aspects and will always assist in any troublesome situations.
Please contact Helsinki Guides whether you are planning a leisure group visit or a more official tour - you are in the hands of professionals.
WE AND SUSTAINABILITY
Helsinki Guides work in accordance with sustainable principles. At the end of 2022 our association was granted the Green Activities certificate and in August 2023 the Sustainable Travel Finland label. We carry out sustainable walking tours in the centre of Helsinki.
You can find g
uides with special sustainability expertise under Find your guide above in the blue field.
Book for your group the Classic Helsinki walking tour and take a sustainable and accessible look at the heart of our capital. Starting point Senate Square, Monument of Alexander II, ending point Main Railway Station.
Duration: 1 1/2 - 2 hours.
Booking: This email address is being protected from spambots. You need JavaScript enabled to view it.
In English, German, French, Russian, Spanish, Japanese, Swedish, Finnish
Find more information about


Perho Liiketalousopisto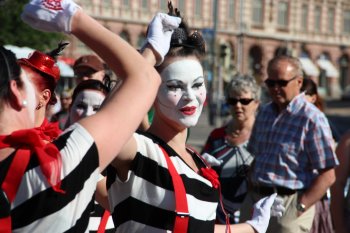 Helsinki Guides work together with Perho Liiketalousopisto and other educational institutions in maintaining the highest levels of professionalism within the industry. More information on courses on offer from https://perhopro.fi 
Opastuspalvelujen ammattitutkinto on tutkinto jo alalta kannuksensa hankkineelle, jolla on opintoja tai työkokemusta ja kykyä suunnitella ja toteuttaa elämyksellisiä matkailukokemuksia. Hakijan tulee osata sujuvasti vähintään yhtä vierasta kieltä. Ammattitutkinnon suorittaminen edellyttää myös suomen kielen osaamista. Jos edellisten lisäksi tunnet palavaa intoa oppia uutta ja saat lisävirtaa asiakkaista, tämä on sinun juttusi!
Opastuspalvelujen ammattitutkinnon tavoite

Opastuspalvelujen ammattitutkinnon suorittaneena osaat tuotteistaa, suunnitella, markkinoida ja toteuttaa opastuspalveluja asiakaslähtöisesti ja vastuullisesti.
Tutkinnon suorittamisen jälkeen voit hakea Helsingin opasyhdistyksen jäsenyyttä ja sitä kautta pääset viralliseksi Helsinki-oppaaksi. Opinnoissasi voit suuntautua matkanjohtajan tehtäviin kotimaassa tai ulkomailla, risteilyoppaan työhön risteilyaluksilla, ulkomaan kohdeoppaan työhön tai erikoisopastuksiin oman erikoisalasi mukaisesti.
Koulutuksen sisältö
Opastuspalvelujen ammattitutkintoon valmistava koulutus on monimuotokoulutusta, joka sisältää  lähitapaamispäiviä, ohjattua opiskelua verkko-oppimisympäristössä sekä omatoimista opiskelua kuten tiedonhankintaa ja opastusympäristöön tutustumista. Opintojen alussa jokaiselle opiskelijalle laaditaan osaamisen kehittämissuunnitelma (HOKS). Mikäli sinulla on jo tarvittava osaaminen hankittuna, voit osoittaa osaamisesi suoraan näytössä.
Lue lisää Perhosta: